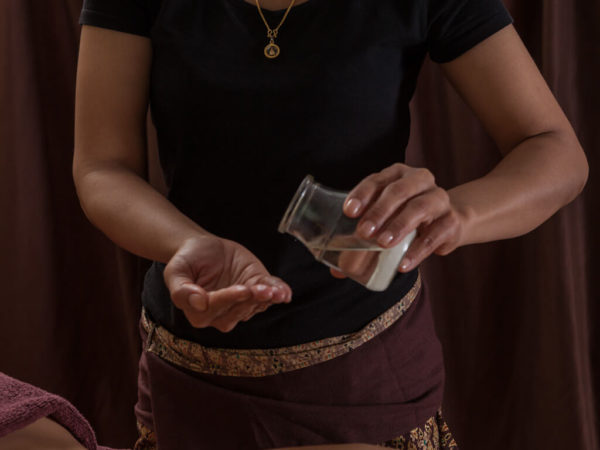 When exposed to long-lasting stress, we often lose a positive attitude, which in turn affects our body. If for some time you have trouble with falling asleep, migraines or back pains it is very possible that they are just symptoms of living in constant stress.
In the interest of our guests' health, we have prepared the stress reduction package. A special selection of massages eliminates the physical symptoms associated with a stressful lifestyle, and the soothing atmosphere of our salons puts you in a state of blissful relaxation.
The package contains four completely different massages - hot coconut oil, hot stones, foot massage (reflexology) and classic Thai massage.
Classic Thai massage
Classic Thai massage stands between the functionality, physical effects of a massage, and the relaxation soothing the mind. This is because of the techniques used in it - by opting for this massage you will experience elements of passive yoga that will stretch the tendons and muscles. You will learn what shiatsu is, in short terms, a form of pressure pointing. Traditional Thai techniques will help relax muscle tension so that after all you will feel a boost of positive energy.
Foot massage (reflexology)
Foot massage, reflexology can greatly affect your whole body. It's because of the nerve connections that come out of all the vital organs in the body, and have their ends in feet. Reflexology is also a response to the problems of people who wear uncomfortable shoes or high heels every day. This treatment greatly helps with the pains caused by it and reduces the feeling of heavy legs.
Hot basalt stone massage
Another element of the package is a hot basalt stone massage. Basalt stones are perfectly smooth - you do not have to worry about skin irritation. On the contrary - for a massage we often use oil, which additionally moisturizes it. What is worth knowing about it is the fact that the stones that will heat your body are not arranged by accident. It's arrangement is conditioned by energy points along the sen lines, which in Thai terminology are the main energy channels in the body.
Hot coconut oil massage
Hot coconut oil massage in turn is a feast for both body and soul. Extremely relaxing because it is made of heated oil, besides relaxation for the mind, also has beneficial properties for the skin. Thanks to it, it becomes moisturized and smooth to the touch. The vitamins and minerals contained in coconut oil are perfectly absorbed by it, which rejuvenates and nourishes the skin. The whole stress reduction package is arranged in a complete composition that will certainly let you forget about the hardships of everyday life, thanks to it, you will look at everything from a slightly different, calmer perspective.
The stress reduction package is also a great idea for a gift. The whole spectrum of massages contained in it will surely satisfy even the most sophisticated tastes. This and each of our other packages and gift vouchers can be purchased in any of our massage salons in Warsaw and Krakow or in our online store - www.masaztajski.net, where you will also find numerous promotions and our other products.
Book the Anti-stress package at ThaiSun