Feet and legs massage (reflexology)
Feet and legs massage (reflexology)
Reflexology in Thailand is better known as feet and legs massage. During treatment masseurs use their hands and specially constructed wooden sticks.
This kind of massage is answer for modern problems of women, who often walk on heels, wear uncomfortable shoes. That kind of things can affect their legs by causing tension muscles of calves. If you want to protect yourself against inflammations of muscles and joints in feet and leg area, we would highly recommend you this massage.
Reflexology amazingly mobilizes whole body to work, improves blood and lymph circulation and prevents varices. So, in case you feel as if your legs 've been 'heavy', you have problems with walking or you just want to improve blood circulation, we'd like to provide you with a great solution, which is our feet and legs massage.
Price list of reflexology
| Duration | 30 min. | 60 min. | 90 min. |
| --- | --- | --- | --- |
| Feet and legs massage | 60 zł | 100 zł | 140 zł |
Make an appointment for a Feet and legs Massage at ThaiSun salon
Treatment takes place on specially prepared mat or mattress. Before massage, we give you uniform. In order to ensure clients a high comfort, fully-equipped bathroom and fresh towel are waiting for you in our salons. The only thing you'd need is time for this pleasure.
Our thai staff recommend one-hour massage. During this amount of time, masseur can properly pay attention to every problematic place to provide you relief and relax. At the same time, we fully understand, what rush means. So, in our offer you can also find shorter massages. For instance 30-minutes one is ideal if you don't have time to experience thai massage in full edition. Moreover, feet and legs massage is amazing addition to other massage, mainly back massage.
The technique of reflexology
Reflexology done by our thai masseurs would improve blood circulation in legs and prevent varices. What is more, it also reduces tension of muscles and minimizes inflammations.
But how to get that kind of results in reality? Whole massage is performed in lying position. At the beginning masseur cleans your feet with warm water and dries them. Next, special combination of balms and oils is being applied into your legs and feet. Adequate massage encompasses sole and back of the foot, toes, calves and knees. Left leg is usually massage as a first one. Reflexology with wooden sticks, which maximize health effects, is available on request.
Some people may feel discomfort or even pain during treatment. However, it makes results of treatment more noticeable. At the end, masseur does short head and forearms massage in order to let you completely forget about all daily problems. Straight after massage, you shouldn't wash off oils, because it releases beneficial substances for even a few hours.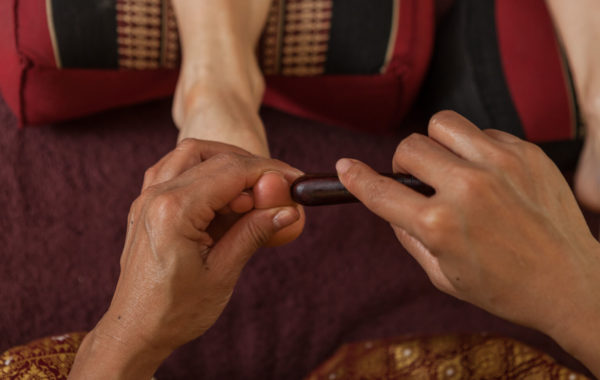 Make an appointment for a Reflexology at ThaiSun salon
Feet and legs massage is an answer for modern problems, especially dedicated for women who often walk on heels. All of the tensions, that tend to culminate in muscles of calves, would be reduced during treatment. We highly recommend You this massage in order to keep away from muscles and joints inflammations. Reflexology amazingly mobilizes whole body to work, improves blood and lymph circulation, prevents varices. It's part massage with use of oils and balms. Masseur uses own hands and special wooden sticks. Reflexology encompasses sole and back of the foot, toes, calves and knees.
Massage is performed on specially prepared mattress or matt. The best effect you can obtain by choosing 1-hour treatment. However, 30- minute massage is also available and is recommended as an addition to back or oil massage.
The advantages of feet and legs massage includes:
relaxing muscles of legs
improving blood circulation
removing feeling of "heavy" legs
Make an appointment for a Feet and legs Massage at ThaiSun salon