The oldest (at least 2500 years old) type of Thai massage containing combined techniques of acupressure, Shiatsu, Ayurveda and passive yoga (also called yoga for the lazy).
This massage discharges tension in muscles, joints and tendons, stimulates the circulatory and lymphatic system by restoring balance in the body. Thai massage gives a huge boost of energy, which is felt even a few days later.
Available in a variant for 4 hands.
Price list of traditional thai massage
| Duration | 60 min. | 90 min. | 120 min. |
| --- | --- | --- | --- |
| Classic thai massage | 130 zł | 160 zł | 200 zł |
Make an appointment for a Traditional Thai Massage at ThaiSun

Classic massage is performed in a special, comfortable Thai attire. Before the massage you shouldn't be eating a large meal. Massage is available in both versions: 2 and 4 hands. There is also a possibility to choose the massage strength, depending on Your needs.
Full body "dry" massage. At first the masseuse is massaging feet, legs, arms and back, following the Sen power points. A person is being massaged first on the back and later on the other side.
The final step is to massage the head, before which the masseuse washes her hands as in the philosophy of Buddhism head is considered as a sacred place. Massage is interspersed with numerous "asanas" (yoga positions).
They are possible to be made even for the beginners, with the help of a skilled masseuse – that's why it's sometimes called yoga for the lazy. Massage also contains techniques of acupressure, which improves blood circulation.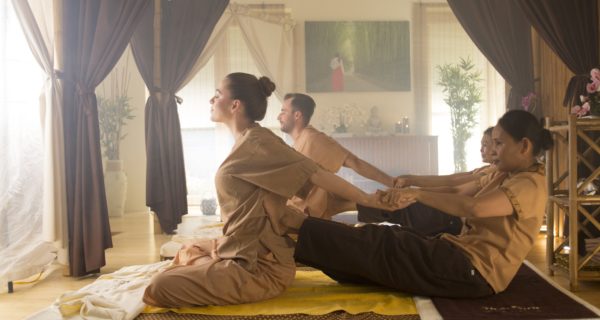 relaxation of the muscles and tendons,
joints become more flexible,
better metabolism,
improvement of blood circulation,
positive energy boost
level and harmony of the body.
Make an appointment for a Traditional Thai Massage at ThaiSun