Couples massage is a unique experience, which we can share with those closest to us. Double room ensures full comfort in every kind of massage. Our best masseuses from Thailand will take care of the highest quality of the massage.
Spending time in a unique atmosphere of our ThaiSun salons is not only pleasurable, but also a way to regain your internal harmony and a chance to experience best Thai physiotherapy. If you decide on a massage 'for two', you can be sure that it would be an unusual experience, which gives benefits both for the soul and your body. Experiencing a classic Thai massage perfectly cooperates with energetic and at the same time relaxing style of the massage.
The traditional form of the massage includes many elements of passive yoga and stretching. It is a wonderful massage for people, who lead active lifestyles or for people who are looking for a relief due to aching joints.
Price list of couples massage
| Duration | 60 min. | 90 min. | 120 min. |
| --- | --- | --- | --- |
| Couples massage - classic | 240 zł | 300 zł | 380 zł |
| Couples massage - oil | 340 zł | 440 zł | 540 zł |
During some moments in the session, the classic Thai massage resembles yoga lessons. For people who prefer deeply relaxing, silencing and delicate massage style, we would recommend an oil massage. It is a perfect way to soothe the senses in a Thai atmosphere. Done with precision and with slow movements it would satisfy even the most experienced connoisseur of massages.
Make an appointment for a Thai Massage for couples at ThaiSun salon
You can expect a huge amount of a positive energy during a Thai massage. After entering the double room and lying in a special position, you can be sure that you put yourself in the hands of the best masseurs. It's not without reason that a classic Thai massage is called a passive form of yoga as during the massage you are not doing any movements yourself, besides catching masseurs' hands in specified moments. This kind of massage is all about letting the therapist take control of your body and let them stretch it and massage it at the same time. Classical Thai massages are an exceptional experience as their main role is not only pleasure but also active physiotherapy.
Oil massage is recommended for people who prefer the feeling of deep relaxation. Thai oil massage includes less stretching, but more slow movements. It will soothe aching places on the body and calm your mind. Aroma oils used in this massage are full of scents straight from Thailand – alive and fresh herbs, notes of lavender and citrus. During the oil massage, you are experiencing oriental aromatherapy. Almond oil has a regenerating effect on the skin and it also ensures extra protection for people who have dry skin problems.
The technique of couples massage
Classic Thai massage for couples
Classic Thai couples massage features intensive techniques, which can give excellent physiotherapeutic effects by using oriental systems of exercise. At the very beginning of the massage, passive yoga sessions start.
Masseurs are relaxing the body by stretching and massaging it at the same time. During the massage elbows and knees of the masseurs are being used. It allows them to obtain ideal pressure for the whole body.
Classic Thai massage is performed in a special uniform, which softens rubbing and allows to reach a therapeutic effect without using any oil.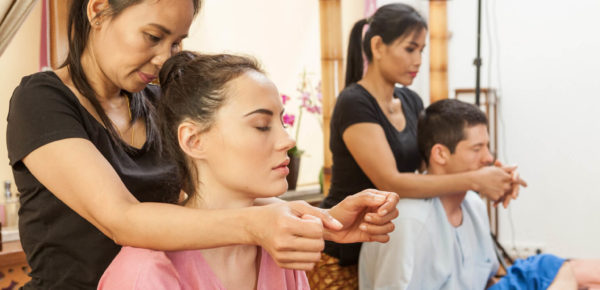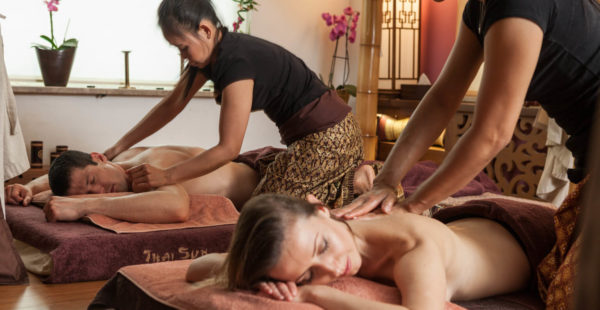 Oil Thai massage for couples

Oil massage is a combination of classic Thai massage and oriental massages which use aromatherapy oils. The oils are based on exceptional fragrance notes which are made especially for our ThaiSun salons by Lemongrass House.
Oil massage has a different kind of pressure than a classic Thai massage. Using aromatherapy oils during the massage naturally causes slower movements and makes the body pressure more delicate and precise.
The result is a unique combination of strength and tenderness, which provides relaxation and calmness. Oil massage allows to get into a deep relaxation state, whilst the massage therapist is concentrating on the whole body including back, head and feet.

Our offer of the couples massage includes all kinds of massages which are available at ThaiSun. Couples can choose from wide range of massages, which you can find in our offer.
Advantages of a couples massage include:
restoring full range of movements
massage of joints and tendons
restoring proper circulation in the muscles
stretching and loosening the whole body
elimination of muscle tension
a sense of deep relaxation
improving the physical and mental condition
Make an appointment for a Thai Massage for couples at ThaiSun salon