Oil massage (aromatherapy)
Massage with aromatic oils
Massage with aromatic oils, is a possibility for you to experience firsthand a hundreds of years of tradition of Far East massage school in unusually relaxing version.
During massage our professional staff use specially prepared oils from sandalwood, rose, mint lavender, palisander, pranjipani or ylang-ylang and from other unique trees and bushes straight from Thailand.
Greatest effects of aromatherapy include stimulating circulation of lymph which gives good results for immune system. It also tightens skins and let you experience state of deep relaxation. So, if you want to improve condition of your skin or just simply relax and forget about all of your problems- it's a perfect option for you. Especially we'd recommend this kind of a pleasure for clients, who had never tried thai massage and are afraid of pain. In this case, you get to know some universal techniques, which would make the scare of unknown pain disappear.
Price list of oil massage
| Duration | 30 min. | 60 min. | 90 min. | 120 min. |
| --- | --- | --- | --- | --- |
| Oil massage | 130 zł | 200 zł | 250 zł | 300 zł |
Make an appointment for a Oil Massage at ThaiSun salon
Oil massage encompasses whole body and is done in lying position. At the beginning you are going to lay on your back and masseur would apply oils into your skin, starting from legs. When first leg is properly massaged, it is wrapped into towel to speed up absorption of oils. Next, the ritual is repeated with another leg and it also starts from the foot. After that, masseur concentrates on hands, forearms and chest massage. When this parts of the body are properly relaxed, the change of position to laying on stomach happens. The whole thing is to culminate in head and face massage. At the end of massage the skin is nourished, our senses can enjoy scents spreading in the air. It's not recommended to wash off oil straight after the massage due to their beneficent properties. We'd like to encourage You to inform masseur about your preferences, starting with choice of oils using during massage to intensity of its scent. For instance lavender helps to get into state of relax, scent of lemon stimulates, jasmine increases skin's elasticity. Maybe are there parts that you'd like masseur to focus on? Of course, it's possible. You just need to inform about this receptionist or masseur before massage.
The technique of oil massage
The main aim of massage with aromatic oils is relaxation and putting you into great mood. Oils gently massaged into your body would leave a nice feeling of smooth skin even for a few hours after treatment. But if you have any important meeting after massage or any other reason, you can wash off oils- fully- equipped bathroom and fresh towels are waiting for you at our salon.
What's more it's a massage of a whole body, so the only thing you'd wear is disposable, hypoallergenic underwear, which we'll give you before massage. If you 're wondering whether you need to do any preparations before treatment, the answer is no. The only thing you'd need is time for this pleasure.
Our staff highly recommend 1,5h or 2h version of massage, what is standard in thai sanctuaries. If you want to achieve maximum effects during one session, two-hours version is especially recommended. One- hour massage is great option to get rid of stress, for example during lunch break at work.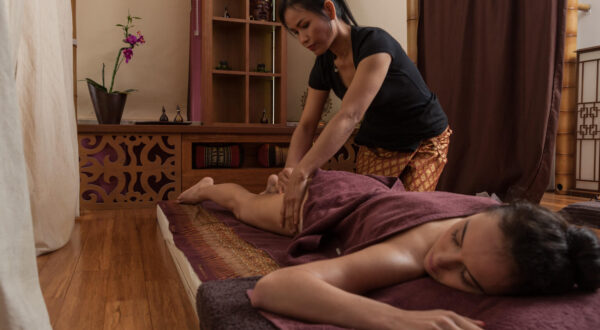 Oil massage is the most relaxing one from all of the thai massages, which we offer. It's performed with aromatic oils from sandalwood, rose, mint lavender, palisander, pranjipani,ylang-ylang and others unique trees straight from Thailand. All of moves in this massage are slow, with concentration on precision and bringing relax for the whole body. Firstly, a person being massage is lying on the back. Oils are gently and slowly massaged into your skin, starting from feet. After massage of one leg, it's wrapped into towel to let oils effectively go into skin. Similarly to thai massage after massage of hands, forearms and chest, client change position and ritual is repeated starting from feet do neck. Treatment ends up with gentle head and face massage.
Oil massage is performed in disposable underwear. If you want to, you can take shower before massage. We'd highly recommend not to wash off oils straight after massage due to their gorgeous properties.
Massage with aromatic oils is available in two-hands and four-hands version. We also pay attention to oils, cause every single of it has unique influence on body- lavender relaxes, lemon grass stimulates and jasmine increases skin's elasticity.
The advantages of oil massage includes:
overall regeneration of tired organism
ability to get into state of the deepest relaxation
removing tension of muscles
better lymph circulation
tightening skin
moisturizing and soothing dry skin
Make an appointment for a Oil Massage at ThaiSun salon