Sport massage is a very popular treatment among clients of our salons. Our professional thai staff is able to adjust massage to your preferences, so it totally doesn't matter whether you do sport regularly or from time to time.
The main aim of sport massage is appropriate preparing of the body to physical effort. It's possible thanks to techniques that warm up body and muscles. You can treat this massage as a warmup as well as regeneration after training. Treatment effectively improves blood circulation, eliminates tiredness and muscles sores.
We'd highly recommend you to try this massage before physical activity. It's great way to prevent any sports injuries and to get greater range of movement. However, if you'd decide to do sport massage after training, results can be: faster regeneration of organism and reduction of muscles sores.
Price list of sport massage
| Duration | 60 min. | 90 min. | 120 min. |
| --- | --- | --- | --- |
| Sport massage | 210 zł | 260 zł | 320 zł |
Our qualified masseuses recommend 1,5 h version as a optimal one. However, if you need more relax or want to get better results, 2-hour session would be great solution. One-hour version is also effective and lets to know all of the best qualities of sport massage.
Make an appointment for a Sport Massage at ThaiSun salon
Masseurs use special, original aromatic oils for sport massage, which scent help client to relax and get maximum results during treatment. We take care about every single detail so that before massage we'll give you hypoallergenic, disposable underwear. Fully- equipped bathroom with fresh towels is waiting for you in our salons.
We'd recommend you not to take shower straight after massage in order to let substances from oils moisturize the skin. You don't have to prepare for sport massage. The only thing that you'd need is time for regeneration in thai version. Our qualified masseurs recommend 1,5h version as an optimal one. If You need more relax or want to get better results, 2-hours session is suitable. Effective, but shorter version is 1-hour session during which you'd get to know best properties of sport thai massage.
Technique and type of massage
During whole massage, you'd be in lying position, All of the techniques have dynamic character. Firstly, you're going to lay on your stomach and masseur' d concentrate on your feet and lower part of legs. Afterwards, massage encompasses thighs and back.
Sport massage is a whole body treatment, so nextly masseur' d pay attention to your chest, forearms and hands. At the end head massage would provide you total relax. During whole treatment masseur uses original, thai cosmetics (such as balms and oil), which not only soothe pain, but also smell beautifully.
Sport massage is extremely pleasant way to get rid of microdamages of muscles fibres and muscle sores.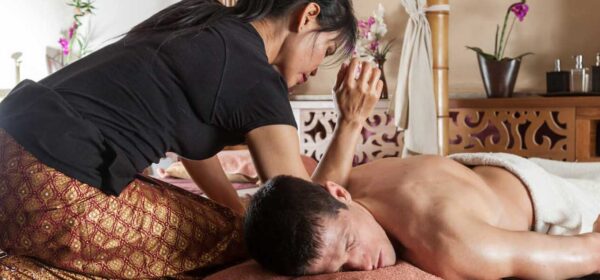 The main aim of sport massage is warming up muscles, joints, preparing it for training, but also regeneration of a whole body after physical activities. Out of all massages, which we have in our offer, this one is the most intensive and strongest. It's called dynamic version of massage with aromatic oils. Done before physical activity, it reduces risk of sport injuries, prepares muscles for training. Treatment can be successfully done after physical exertion. It'd fasten regeneration processes, stimulate absorption of lactic acid by organism, reduce mechanical injuries and ease tensions in muscles.
Treatment encompasses whole body and is performed in disposable underwear. It's done in lying position. All of the moves are intensive and dynamic. Massage starts from feet and legs massage, then thighs, legs and in the end-head massage. Special warming oils and balms to soothe pain are used by masseurs.
It's also possible to focus on particular part of the body, for example- thighs before skiing or upper parts of the body before tennis set. Treatment is available in 'four-hands' version.
The advantages of sport massage includes:
reducing tension in muscles
regeneration of organism after training
preparation body to physical activity
better metabolism
faster coming back to physical activity after sport injuries
Make an appointment for a Sport Massage at ThaiSun salon