ThaiSun is a chain of professional thai massage salons. Visiting any one of them will let You feel like in Thailand, having a true thai massage on one of the Phuket beaches. We are located in three places in capital of Poland - Warsaw, as well in two other major polish cities Kraków and Wrocław.
In each one of our thai massage salons we care about the highest possible quality of massage - while visiting them You have the guarantee of having a professional thai massage therapist of Thai nationality and with lots of experience, which was gained in the best thai massage school Thailand has to offer. The strive for perfection in recreating traditional thai massage salons goes far beyond highly trained crew - we also care about focusing on beautiful and calming environments that will remind You of Thailand.
All of the massages in our menu are performed with the use of highest quality natural cosmetics imported from Thailand. We offer our guests specially prepared private rooms with beds designed for thai massage. This all adds up to a perfect environment for experiencing health benefits that come with thai massage, just like in Thailand. Choosing thai massage will let you experience the famous passive yoga it is known for, shiatsu massage elements, which will allow your body to perform better and feel better.
According to the legend the thai massage practice was invented to help Budda ease the pains coming from meditation and long foot trips, by his trusty physician Shivago Korompaj. It was also a popular remedy for royal families in many countries surrounding India and Thailand.
For two thousand years thai massage was developed and practiced winning the hearts of all massage enthusiasts over whole world. Now by courtesy of ThaiSun You have the opportunity to use the power of an ancient thai tradition to heal yourself. Within the range of thai style performed massage you will find a lot of different massage types: thai traditional, aromatic oil massage, feet (reflexology) massage, sports massage and also a variety of hot massages like hot coconut oil massage or hot herbal balls massage.
The thai massage is available for every age and body type - our masseuses will accommodate their style and strength according to individual needs of our guests. Thai massage is currently wildly popular in Poland and that means you can meet in ThaiSun salons various celebrities from sports and YouTube to even big movie stars. We are also prepared to host multiple massages for bigger parties of guests.
Move to the land of relaxation and enjoy a Thai massage at ThaiSun

ThaiSun giftcards are the best way to give to our closest ones what is most precious - a healthy and pleasant way to treat your body. No matter the occasion this will be a perfect gift - Christmas, Valentines day or birthday - thai massage giftcard is an unique experience proposition.
You can choose from a variety of thai massages like hot coconut oil massage, hot stones massage or go the traditional way with classic thai massage.
Our first thai massage salon is located in the center of Warsaw at Łucka 20/1402, right next to Warsaw Spire. The second massage salon is on the other side of the city, across the Vistula river, in the Saska Kępa district at Zwycięzców 11/1. The newest salon in Warsaw specialised in spa treatments is located in the Mokotów district at al. Wilanowska 111A/3. We also have salons in center of Kraków at Krowoderska 52/1 and Wrocław at Wyszyńskiego 43/U1.
Here You will find all the contact data You will need - You can browse our salons locations, call them or book Your massage online by filling our contact form.
THAISUN WARSZAWA
SASKA KEPA
Massage in our salons is always a good idea for a unique and interesting gift, no matter the occasion. In every ThaiSun thai massage salon you can purchase a giftcard. However if You prefer to do Your shopping online - here is our online shop with a variety of choices - www.masaztajski.net.
Relax and feel the Asian atmosphere during a Thai massage at ThaiSun

Loyal customer card - get the sixth massage free of charge
We are utmost happy with the fact that most of our customers stays with visiting our salons on a regular basis. To celebrate this face we conceived a loyal customer program with no end date.
The rules are very simple - You have to go to a single massage and You will receive the loyal customer card, which then You have to fill with 5 massages - the sixth one is free of charge, and You can choose from any treatment You have on Your card.
The loyal customer card cannot be used in combination with any other promotion, giftcards based massages also don't apply to loyal customer card.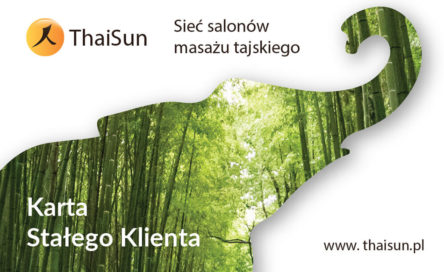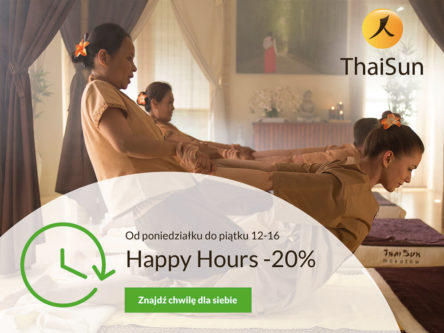 With almost ten years of experience in running thai massage salons we are pleased to see so many guests all the time, even on working days. For the guests who have time in the middle of the day we conceived a special offer "Happy Hours", like the ones You can find in many restaurants across the globe.
Within the range of 12pm to 4pm You can get all of the massages 20% off in You mention the Happy Hours promotion. You don't have to do anything special - just come to one of our salons if You have free time in the middle of day; perhaps You have a lunch brake thats dragging on or maybe You just want to celebrate Your free day with us.
The Happy Hour promotion does not combinate with loyal customer card or giftcards.
When it comes to our health and wellbeing we realised that our bodies are tremendously affected by the season and weather. To counter the seasonal influences we offer special seasonal massages which are designed to help You for example with sunburns in the summer or dry skin in the winter.
Special cold aloe vera massage is always ready at ThaiSun when the hot summer days come and You stay too long under direct sunlight. When cold autumn winds leave You with cold every two or three days You should check out why herbal balls massage is the strongest anti-inflamatory proposition in our menu.
When calling to make reservation always ask about the seasonal massage propositions.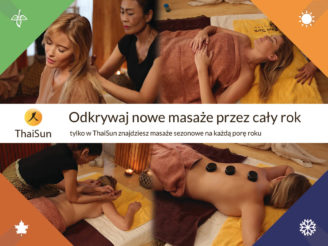 You are interested in our offer but you are wondering which massage to choose?

masaż tajski na ból plecówBól kręgosłupa jest popularnym schorzenie­­m, dotykającym już 84% Polaków. W dodatku, coraz ­­częściej dotyczy młodszej części populacji. Dzieje się tak, ze względu na zmianę trybu życia na siedzący. Praca przy komputerze, bierny odpoczynek, nieprawidłowe nawyki postawy, a nawet zła pozycja ciała podczas snu. Wszystkie te czynniki przyczyniają się do uporczywego bólu […]
Ponieważ chrześcijańscy mieszkańcy Tajlandii to bardzo mały procent tajskiego społeczeństwa, wypadałoby spodziewać się raczej lakonicznych obchodów Świąt Bożego Narodzenia. Nic bardziej mylnego – na Gwiazdkę cała Tajlandia…