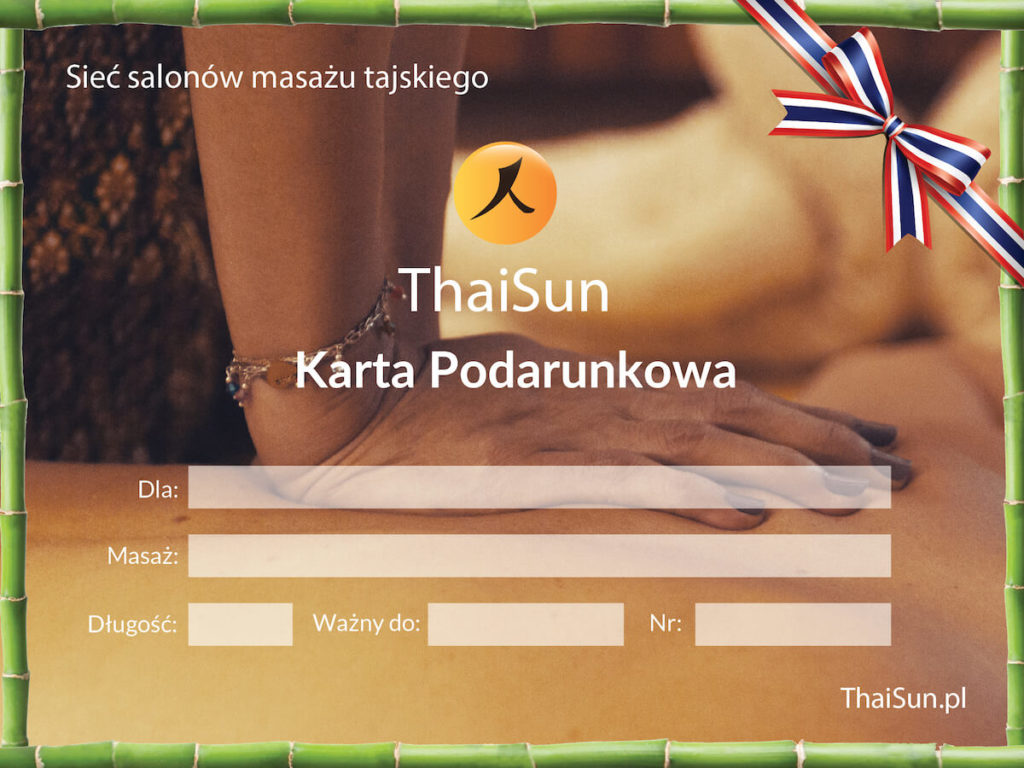 ThaiSun gift cards are a great way to please your loved ones. Regardless of whether it's holidays, Valentine's Day or maybe a birthday - a massage in our salons presented in the form of a gift coupon is a good idea at every opportunity.
Massage with coconut oil, hot stone massage or maybe a traditional Thai massage - these are just a few of the elements of our offer that will surely hit the tastes of the person you give.
How to choose the right gift?
When choosing a gift card, it's worth following a few factors. These are, among others, the type of work of the recipient, age or character. People with a dynamic character will surely indulge in intense massages such as sports or in a slightly milder classic Thai. Those who work stationary often have back pain - the massage of this part of the body is a great way for them to get rid of ailments and relax.
Gift card can also be presented in the form of a package of massages, which we also have in our offer. People who deserve a special, royal treatment will surely appreciate our spa treatment - ThaiSun Royal massage, which starts with a scrub and face massage, and ends with reflexology preceded by a whole body aromatic oil massage.
QUOTATION COUPONS IN THAISUN
If you are not sure which massage or spa treatment will be the best, in our offer we also have gift cards in the form of quota coupons, available in any of our Thai massage salons, or online. The person you give such a voucher can choose the best-suited massage for themself, so you can be sure that your voucher is a hit gift.
All these unique gift ideas and quota gift cards can be found in our ThaiSun Thai massage salons and in our online store www.masaztajski.net, where you will find a full offer of our massages, gift cards, packages and numerous promotions.
Choose a massage or treatment and order a ThaiSun Gift Card