ThaiSun Thai massage salons
ThaiSun Thai massage salons
ThaiSun to sieć salonów masażu tajskiego z długą, bo blisko dziesięcioletnią tradycją - od niemal dekady dostarczamy naszym klientom błogiego relaksu i odprężenia!
Nasza przygoda z tajskim masażem w Warszawie zaczęła się od salonu przy ulicy Łuckiej 20, w samym sercu stolicy. Nikt nie spodziewał się wtedy, że tak szybko to miejsce stanie się tak popularnym punktem na mapie Warszawy, który odwiedzają m.in gwiazdy telewizji, biznesu czy sportu. Bardzo wysoka jakość masażu i wspaniała atmosfera sprawiły, że tajska rodzina ThaiSun urosła i na dzień dzisiejszy ThaiSun to sieć pięciu salonów masażu w trzech miastach Polski. W Warszawie poza salonem w centrum Warszawy przy ulicy Łuckiej 20 możesz nas odwiedzić na Saskiej Kępie oraz Mokotowie.
Dawna stolica Polski, Kraków to miejsce gdzie pojawił się nasz kolejny gabinet tajskiego masażu. Masaż tajski ThaiSun szybko podbił serca miłośników masażu w całej Polsce i po odwiedzinach na wrocławskich targach na prośbę klientów najnowszy salon masażu tajskiego powstał we Wrocławiu.
Szybko rosnąca popularność i zainteresowanie osób z różnych miejsc na mapie Polski jest z pewnością wynikiem doboru najlepszych masażystek z Tajlandii oraz klimatu panującego każdym z salonów, który wiernie odwzorowuje azjatycką egzotykę oraz podkreśla to co w Tajlandii najlepsze - uśmiech, życzliwość i przyjazną atmosferę.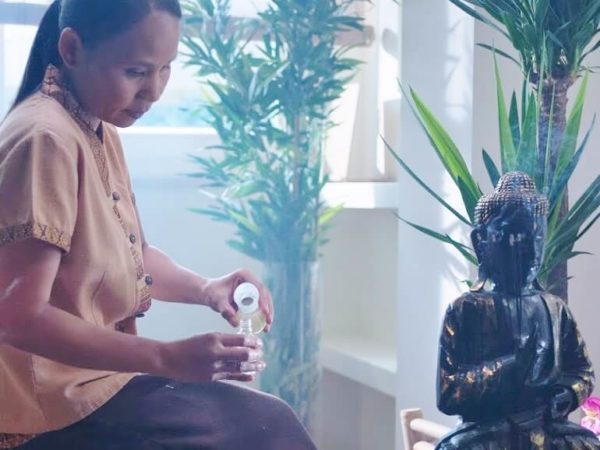 Niezależnie, w którym z wymienionych miast mieszkasz lub jesteś przejazdem - wszędzie możesz liczyć na najwyższą jakość i relaks w najzdrowszej formie.
Bogata oferta zachwyci zarówno osoby, które chcą po prostu zniwelować ból pleców czy rozluźnić spięte mięśnie jak i te, którym potrzebna jest zwyczajnie chwila wytchnienia. Masaże sportowe natomiast skierowane do najbardziej aktywnych przygotują do treningów lub pomogą w szybszej regeneracji dając zastrzyk pozytywnej energii do dalszych działań.
Visit our massage salons in Warsaw, Krakow and Wroclaw
It started with the journey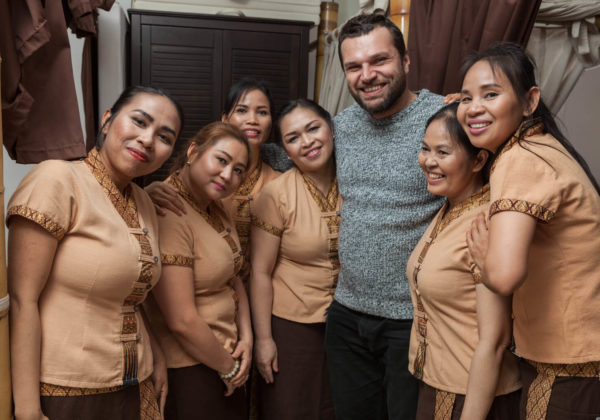 Każdy z nas kiedy musi wracać z miejsca, w którym wyjątkowo dobrze się czuje chce wrócić tam jak najszybciej lub chociaż zabrać ze sobą namiastkę tego miejsca.
Podobnie odczucia miał Marcin Bober, czyli osoba, której podróż do Tajlandii nie pozwoliła po prostu wrócić do szarej rzeczywistości. Kraina wiecznego uśmiechu jest miejscem znanym w świecie m.in. z muay thai oraz masażu tajskiego. To właśnie te dwie przeplatające się między sobą aktywności skłoniły go do nawiązania na miejscu sieci kontaktów i zabrania ze sobą do Polski tego co najlepsze.
Jak sam przyznaje wszystko zaczęło się od treningów tajskiego boksu, które okazały się wyjątkowo wyczerpujące, bolesne i wymagały żelaznej kondycji. Przy większości ze szkół tej sztuki walki zwyczajowo znajdują się salony masażu, który jak się okazało jest doskonałym uzupełnieniem treningów, jednocześnie będąc ich kompletną odwrotnością.
Mowa o przeciwieństwach ponieważ podczas tajskiego masażu odpoczniesz, zregenerujesz siły oraz pozbędziesz się bólu mięśni czy stawów. Rytuał samego masażu, różnorodność technik, zdrowotne efekty oraz zupełnie inne podejście do zagadnienia niż w Europie sprawiło, że wtedy jeszcze ta nieznana w naszym kraju sztuka leczenia dotykiem, stała się sposobem na życie dla Marcina co z czasem zaszczepił wśród swoich przyjaciół.
Drogę, którą przebyliśmy do teraz bez wątpienia można nazwać podróżą i to podróżą z przygodami. Każdy dzień w naszych salonach to zawsze nowe odkrycie - chętnie odwiedzają nas turyści ze wszystkich stron świata, co w połączeniu z tajskim spokojem ducha i polską gościnnością daje nowe spojrzenie na rzeczywistość i dostarcza inspiracji.
To właśnie inspiracja czymś nowym, doświadczenie obcowania z tajskimi zwyczajami i kulturą były motorem napędowym do stworzenia marki ThaiSun.
Book a Thai massage at ThaiSun

Thai masseuses working in ThaiSun come only from Thailand. They have different degrees of experience, strength and massage techniques. Everyone can choose the best suited masseuse to your needs, depending on whether someone prefers relaxation massage or a very strong sports massage.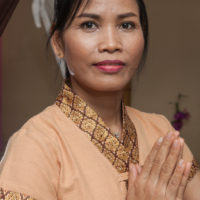 | | |
| --- | --- |
| Region and city: | Udon Thani |
| School: | The Union of Traditional Thai Medicine Society |
| Specialty nr 1: | Classic Thai massage |
| Years of experience, including in Europe: | Since 2009, in Europe since 2015 |
| Strenght of massage from 1 to 9: | 7 |
| Favorite massage: | Classic Thai massage and oil massage |
| Prefers massage with or without oil? | Traditional and oil massage |
| In my opinion, the most important thing in massage is: | Relaxation is the most important thing of the massage |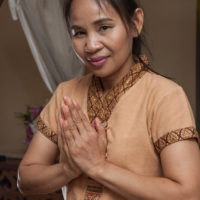 | | |
| --- | --- |
| Region and city: | Surin city |
| School: | Wat Po Traditional Medical School |
| Specialty nr 1: | Oil massage |
| Years of experience, including in Europe: | Since 2008, in Europe since 2014 |
| Strenght of massage from 1 to 9: | 6 |
| Favorite massage: | Oil massage and thai facial treatment |
| Prefers massage with or without oil? | With oil |
| In my opinion, the most important thing in massage is: | Each massage must be relaxing |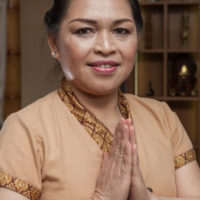 | | |
| --- | --- |
| Region and city: | Udon Thani |
| School: | Tropical Thai Medical Instytute |
| Specialty nr 1: | Traditional Thai massage |
| Years of experience, including in Europe: | Since 2009, in Europe since 2012 |
| Strenght of massage from 1 to 9: | 7 |
| Favorite massage: | Traditional Thai massage |
| Prefers massage with or without oil? | Without oil |
| In my opinion, the most important thing in massage is: | |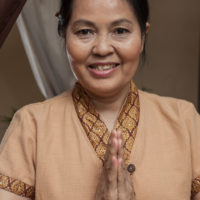 | | |
| --- | --- |
| Region and city: | Buri Ram |
| School: | Wat Po Traditional Medical School |
| Specialty nr 1: | Oil massage |
| Years of experience, including in Europe: | Since 2008, in Europe since 2011 |
| Strenght of massage from 1 to 9: | 9 |
| Favorite massage: | Back, shoulders and head massage |
| Prefers massage with or without oil? | With oil |
| In my opinion, the most important thing in massage is: | |
| | |
| --- | --- |
| Region and city: | Koh Samui |
| School: | Department of skill development - Ministry of Labour |
| Specialty nr 1: | |
| Years of experience, including in Europe: | Since 2008, in Europe since 2014 |
| Strenght of massage from 1 to 9: | 8 |
| Favorite massage: | Oil massage |
| Prefers massage with or without oil? | Traditional and oil massage |
| In my opinion, the most important thing in massage is: | |
| | |
| --- | --- |
| Region and city: | Songkla |
| School: | The Society of Thai Traditional Medicine Development of Thailand |
| Specialty nr 1: | Functional massage |
| Years of experience, including in Europe: | Since 2011, in Europe since 2016 |
| Strenght of massage from 1 to 9: | 9 |
| Favorite massage: | Traditional Thai massage |
| Prefers massage with or without oil? | Without oil |
| In my opinion, the most important thing in massage is: | |
| | |
| --- | --- |
| Region and city: | Karasin |
| School: | Thai Traditional Medicine Society |
| Specialty nr 1: | Relaxing massage |
| Years of experience, including in Europe: | Since 2012, in Europe since 2017 |
| Strenght of massage from 1 to 9: | 8 |
| Favorite massage: | All |
| Prefers massage with or without oil? | Traditional and oil massage |
| In my opinion, the most important thing in massage is: | Relax and smile customers |
| | |
| --- | --- |
| Region and city: | Lamphun |
| Specialty nr 1: | Back, shoulders and head massage |
| Years of experience, including in Europe: | Since 2008, in Europe since 2018 |
| Strenght of massage from 1 to 9: | 7 |
| Favorite massage: | Back, shoulders and head massage |
| Prefers massage with or without oil? | With oil |
| In my opinion, the most important thing in massage is: | |
| | |
| --- | --- |
| Specialty nr 1: | Therapeutic massage Laksa |
| Strenght of massage from 1 to 9: | 9 |
| Favorite massage: | Traditional Thai massage |
| Prefers massage with or without oil? | Without oil |
| In my opinion, the most important thing in massage is: | Knowledge and even more practice |
| | |
| --- | --- |
| Specialty nr 1: | Relaxing massage |
| Strenght of massage from 1 to 9: | 7 |
| Favorite massage: | Oil massage |
| Prefers massage with or without oil? | With oil |
| In my opinion, the most important thing in massage is: | Relax |
| | |
| --- | --- |
| Specialty nr 1: | SPA treatments |
| Strenght of massage from 1 to 9: | 8 |
| Favorite massage: | Feet and legs massage |
| Prefers massage with or without oil? | With oil |
| In my opinion, the most important thing in massage is: | The customer must feel that he's in the best place |